Save the Dates
Coming Fall of 2018:
NLHA Spelling Bee in conjunction with The Heritage Room of Nebraska Authors 50th Anniversary Celebration! More Information coming soon!
2018 Book Sale:
Pre-Sale is Wednesday, October 10, 2018. Pre-Sale Tickets go on sale Wednesday, July 11, 2018 @ 12PM. 
Book Sale is Thursday, October 11 – Sunday, October 14, 2018 at Lancaster Event Center – Lincoln, NE
---
WINE & E
…..In support of technology
in Lincoln City Libraries
You're invited for a special evening complete
with a buffet dinner, and a silent auction of
unique treasures!
Thursday, April 19, 2018
6:00 PM to 9:00 PM
Silent Auction ends at 8:15 PM
$60.00 per person ($25.00 tax-deductible)
$50.00 for members of Friends of LCL
Cash Bar Available
---
NLHA Events
LUNCH AT THE LIBRARY:
Bring your lunch and enjoy coffee provided by The Mill!
April 4, 2018: Lonnie Pierson Dunbier
Programs begin at 12:10 PM in the 4th Floor Auditorium
Bennett Martin Public Library, 136 S. 14th Street, Lincoln, NE.
JOHN AMES READING SERIES:
The launch of NebraskaAuthors.org will be celebrated with a special John H. Ames Reading Series event at Bennett Martin Public Library on Sunday, April 22, 2018 at 2:00 p.m. The event will include a demonstration of the features of NebraskaAuthors.org as well as live readings by a panel of contemporary Nebraska Authors moderated by Charlene Neely and Gerry Cox, editors of "Guide to More Nebraska Authors.
---
Lincoln City Libraries – Begin with Books!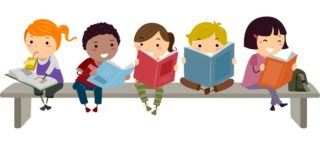 Begin with Books is a program that puts new, high-quality children's books into the hands of low-income children and their families. Our partners are the Lincoln-Lancaster County Health Department, People's Health Center, Lincoln Medical Education Partnership, Health 360, and the Nebraska Urban Indian Medical Center.
When children under the age of five, visit one of these health centers, for immunizations, or well-child checks, they receive an age-appropriate book, and suggestions for the parent about promoting early literacy in the home, a Library Learning Time schedule, and information about Lincoln City Libraries. Staff at these medical centers has been trained to talk to parents about the importance of reading aloud to their child, using the library, and other literacy promoting activities.
Through First Book, we are able purchase books for half the retail price. This means that a donation of $25.00 buys a child seven books from birth to age five, building a small personal library and making book ownership a reality for a low-income family.
Since 2014, over 6,000 books have been given away through this program and our partners.